Most know of documentary photographer and activist, Dorothea Lange (1895-1965), for her celebrated photograph Migrant Mother, Nipomo, California (1936). The haunting portrait of the migrant muse, Florence Owens Thompson, became one of the world's most recognizable portraits in art history, as it was often associated with America's suffering of the Great Depression.
Yet few know the story of Lange's role in documenting the incarceration of thousands of Japanese Americans during World War II. On commission from the US government, Lange arrived on the scene a year earlier than her contemporary, Ansel Adams, making her the first photographer at Manzanar, one of ten prison camps established to detain Japanese individuals as part of President Franklin Delano Roosevelt's issued Executive Order 9066.
Lange's subjects depicted life at Manzanar as she saw it. Japanese American families in line with their children, and immigrant grand parents, endless details of luggages sprawled out amongst a dusty landscape, and exteriors of the bare barracks in which 12,000 Japanese individuals called home. Lange's work often evokes a surmountable pathos, one the government immediately censored, and deemed her work unfit for the public eye.
These censored images would later be known as the "Impounded" photographs, some 800 or so photographs that caused the WRA to lay her off on July 30, 1942, "without prejudice." The WRA added that the nature of her dismissal was due to Lange's "completion of work." Now, while these Impounded photographs have gone on to be published, and even exhibited at the Whitney Museum, where they incorporated twenty-seven of her photographs in their exhibition, Executive Order 9066.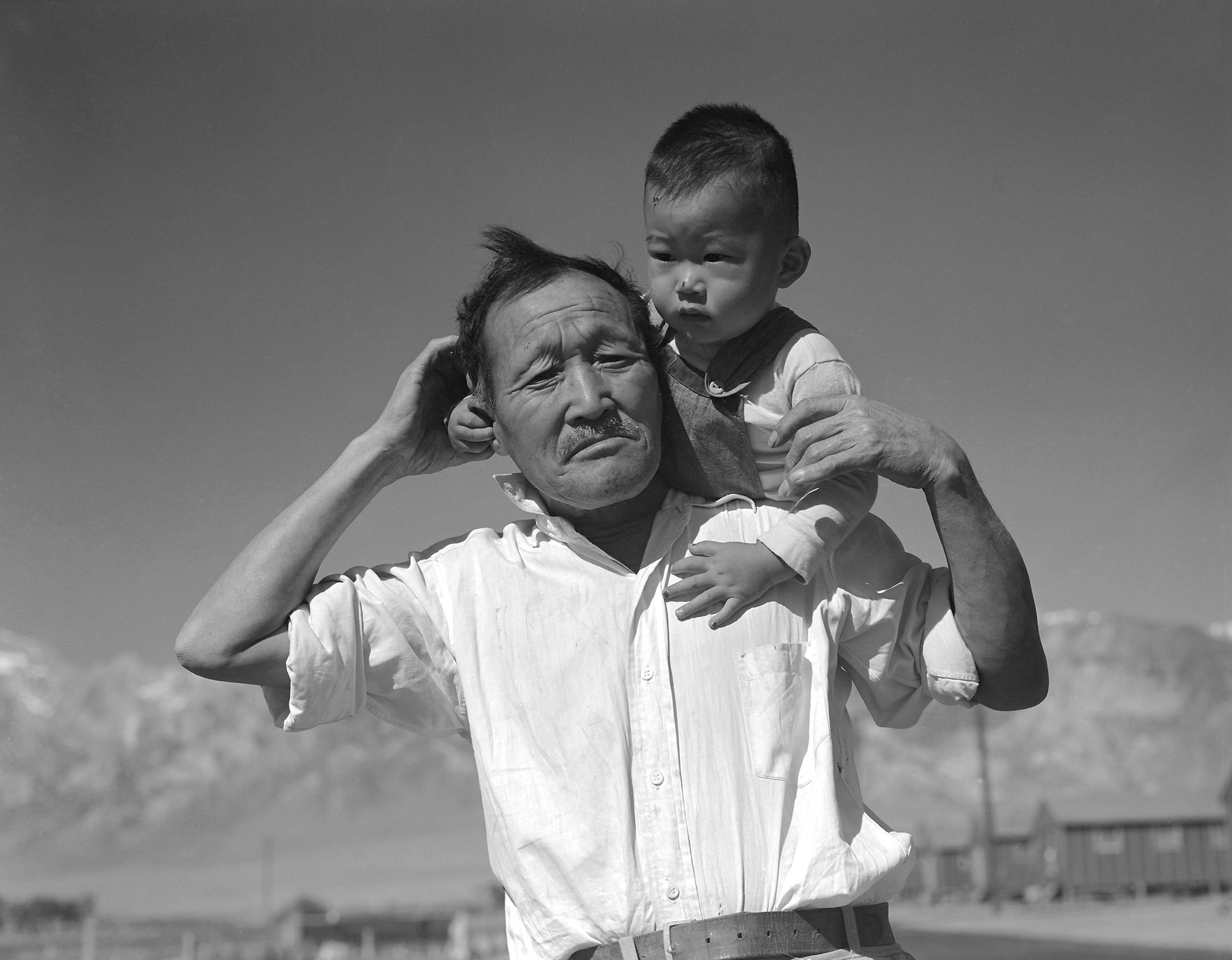 I am happy to announce, that you can view Dorothea Lange's images today. This past summer I had the pleasure of interning for the Skirball Cultural Center, where I assisted in organizing the curation of their new exhibit, Manzanar: The Wartime Photographs of Ansel Adams. So this will actually be my first time seeing it's complete state since I've written labels for the walls! It will definitely be an impactful, and completely surreal moment for me. As a caution, I will have you know (as I'm sure you've guessed by the title of the show) Lange's presence is a small one, as the exhibit focuses more on the impact of Ansel Adam's book, "Born Free and Equal."
Nonetheless, I hope you all will come attend and support the work of Dorothea Lange, and her tremendous contemporaries, including Toyo Miyatake, a Japanese photographer and incarcerate at Manzanar, who was a leading figure in Los Angeles's Little Tokyo arts community, and became the official photographer of Manzanar. This is truly an exhibition of great importance, and I'm not just saying that because of my involvement, but because we are living in a time where social injustice still continues to this day.
Manzanar: The Wartime Photographs of Ansel Adams is on view now at the Skirball Cultural Center in Los Angeles from Oct. 8th to Feb. 21st.
Skirball Cultural Center | 2701 N Sepulveda Blvd, Los Angeles, CA 90049 | 12pm – 5pm
Read on for some fun facts about Dorothea:
Did you know?  
Dorothea Lange was good friends with Ansel Adams. In fact, he actually assisted in printing Lange's Migrant Mother.
Lange's friendship with Adams led her to co-founding of one of leading photography magazine, Aperture. It's true! Both she and Ansel Adams founded the magazine back in 1952, and to this day, Aperture provides so much to the photographic community, from scholarships to contests. Below is the very first issue of Aperture.
Dorothea Lange was diagnosed with polio at the age of seven. This created a disability that would misshape her leg and foot, often causing Lange to wobble as she walked.
Blaming her father for her parents divorce, the photographer took her mother's maiden name, Lange, as her own.
Dorothea Lange opened her own studio in San Francisco that quickly became the place for artists and bohemians alike to gather.
Lange knew she wanted to be a photographer before she owned a camera.
Despite her mother's criticism as Lange being "unmarriagable," the photographer actually married twice.
Now you know!