Hello and welcome to this month's installment of Top 5 Photo Zines You Should Know! With it being October and all, I want to start off by saying this is not a themed concentration. So to all horror aficionados out there, I apologize, there are no ghouls or goblins here. Maybe next time! Nonetheless, this set of photo zines is a great compilation.
Eff & Enn (2014)
Daisy Noemi is a photographer and one of the organizers of LA Zine Fest, who was first introduced to zines in San Diego after attending a swap. Daisy's most recent photo zine, Eff & Enn, is a series of all things flowers and landscapes captured in Los Angeles.
From the Topanga hiking trails to the front lawns of West LA, as well as Eureka and San Diego, Daisy gravitates to floral landscapes as she finds strength in their delicate state. Here's what Daisy has to say about her floral muse:
It's as if they understand they can't be a tall standing flower without experiencing everything mother nature has in store for them, and that's a really neat notion to me.
– Daisy Noemie
Eff & Enn is available at The Pop Hop in Highland Park, or get your copy straight from Daisy's shop!
Enchantments (2015)
Photographer, Ava Alamshah makes dreamy photo zines, and has tabled at both L.A & Long Beach Zine Fest. Her most recent zine, Enchantments, is 24 pages of vivid color, all shot on 35mm and medium format, starring the lovely Ema Aldana.
You can grab your copy of Enchantments at The Pop Hop, and Book Show, which are both located in Highland Park. Or contact Ava directly through her website if you're interested.
Flawless (2014)
Photographer Rebecca Peloquin, runs the micropublishing company, Repel Industries, an LA based art collective that produces books, zines, prints, and art overall. Her photo zine, Flawless, combats body shaming by featuring images of 24 individuals of different ages, genders, and ethnicities. Rebecca highlights that our differences is what makes us valuable.
You can see more of Rebecca's work on her website. Or follow Rebecca on Instagram!
Pretty Fine (2015)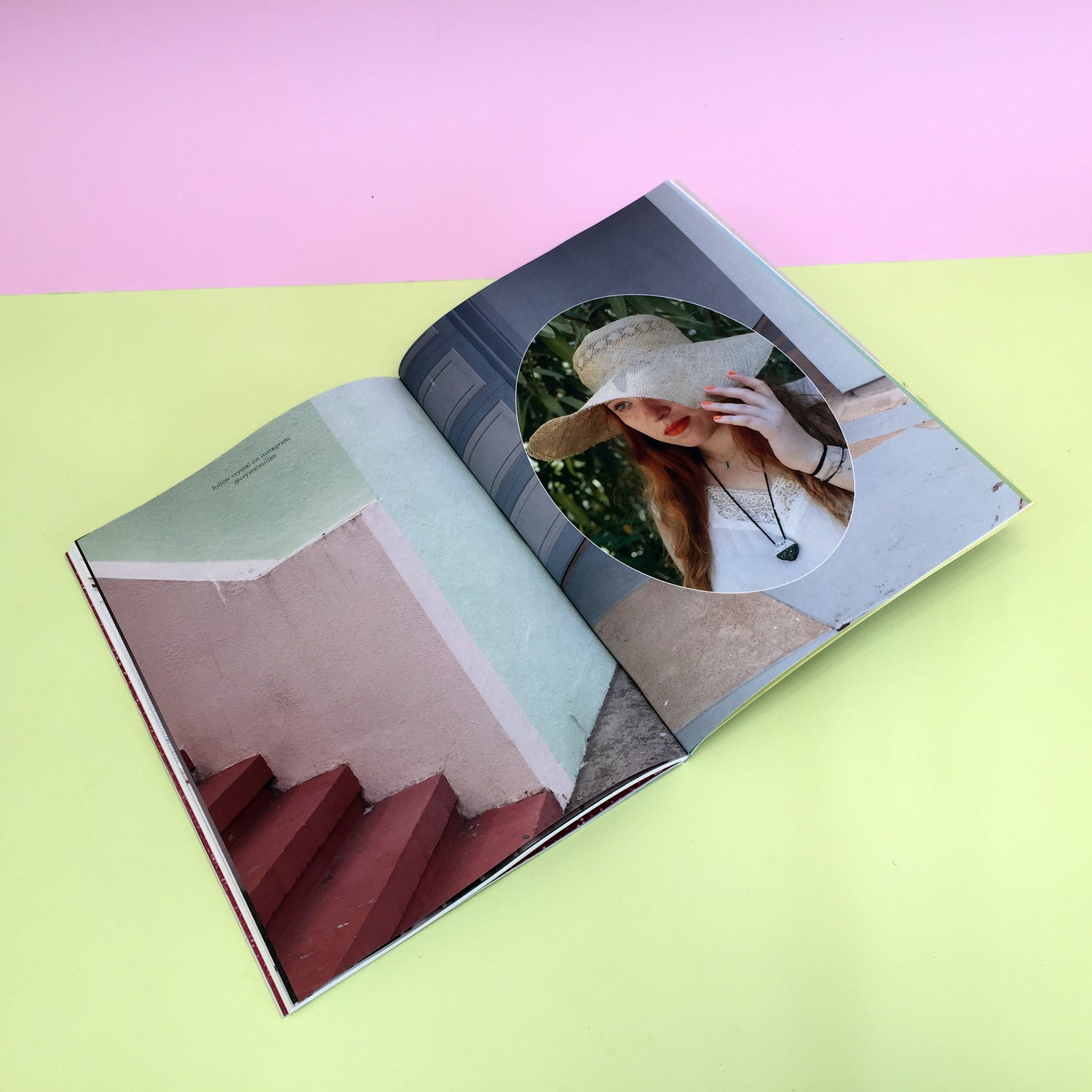 Last month we featured Little Paper Press zine, Girls, and we are happy to hear that Hannah is at it again with another great photo zine.
Pretty Fine is a quarterly platform for young women in the Bay Area who make and do beautiful things. This first issue of Pretty Fine features over 20 ladies who write, draw, paint, photograph and more!
All proceeds from Pretty Fine will go toward publishing zines on behalf of Bay Area women.
Cover images by Crystal Millán, featuring work by:
Emily Proud
Sara McGrath
Lindsay Stripling
Vanessa Villarreal
Melissa McElhose
Monica Semergiu
Katrina McHugh
Court Sparks
annnnd more!
Readjust (2015)
London based photographer, Ruth McMillan celebrates life as part love story, and part wide-eyed adventure. To be honest, we can't live without both. Her latest zine, Readjust, will have you drooling over all the right shades of purple, and patterns in 16 pages of full color. Grab your copy of Readjust at Ruth's etsy store, Endless However.
All images and words were created by Ruth herself. Read an excerpt from Readjust below:
Excitement like sparklers the type you get at Halloween and you light them and they dazzle you like your own personal shooting star then they burn out but you light three more at once and swing them all around and listen to them fizz and sizzle. 
---